Obsidian Market Update 6/19/20
Good morning!
We hope everyone is continuing to enjoy their summer. The stock market news hasn't been especially exciting this week, so we wanted to highlight some fun COVID-safe things that are happening that might spark an idea for you. And we have a great interview for you with Sean McCarron.
Downtown Frederick Alive at Five is Virtual. The weekly outdoor happy hour is happening every Thursday until gathering in person is safe again. Hear local musicians, learn about local artists, and more. This event is also an important fundraiser for the Downtown Frederick Partnership. Learn more on the event's Facebook page.
Go to a Movie Theater–Safely. Some locations of the Alamo Drafthouse Cinema are opening theaters for rental by small groups. If going to the movies is a fun part of your life that you're missing, you might be able to bring it back. You get to choose your time, your movie, and your flat fee includes food and beverages.
Eat, Drink, and Be Merry. Obsidian's fearless leader Pat mentioned participating in an online cheese tasting. It's not only enjoyable, it's not hard to do. Check out this event for an example of how it's done and get together with your friends for some delicious and distant fun.
And now to Sean McCarron, our senior client service specialist.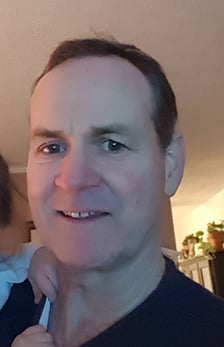 How long have you been at Obsidian and what is your role?
I joined the company back in 2001. I first met Pat and did some related work, not as an employee, back in the mid-80s, so that really dates me now, I guess. We became acquainted quite a number of years ago. I have a background as an employee at a fairly large insurance company and worked with them for almost 20 years.
Day-to-day I work in many facets of the operation. I will handle clients' questions and inquiries as related to their accounts or questions related to their planning, and I will work with clients in the capacity that we offer comprehensive planning for insurance, estate planning, investments. So essentially I'm a contact for any and all clients in support of the planner or planners. With my insurance background, I handle most of the insurance research and products.
What about outside of work?
I've been married since 1982, so we're at 38 years of marriage. My wife and I met when we were both working with racehorses, in a very different industry than I'm in now. We have two young granddaughters and spend as much time as we can with the family.
Personally, my avocations are golf, when I get a chance to play. I enjoy fishing. I've been a fly fisherman since the mid-70s, close to 50 years. Being out on the stream is about 80% of the magic of it. You have to be a bit of a biologist and entomologist, and learn to think like a trout. I hope I'll continue to be able to get out there and enjoy it now that Maryland has relaxed their restrictions on fishing.
How has COVID impacted your work-life balance?
Fortunately, it hasn't affected my work very much. I live very close to our office and have always had the ability to work from home. But I've tended to go in, for the sake of comfortable workspace. Now I'm working from home three days a week. I find it's really no interruption at all, which is fantastic. Pat did a great job, and over the years we've always looked at having a plan for certain things. We weren't expecting a pandemic but the emergency finally came around and we hit the ground running. Most everything is in the cloud for us. And I have a fairly quiet place to work from home, so I don't have many distractions.
As far as home life, it's been positive in many ways. We are finding it's a little less stressful in some aspects simply because we're not always thinking about how we are going to go on our next adventure. We're a little more laid back about it, so that's been nice. I'm also enjoying getting to do the activities I like a bit more now that some restrictions are easing.
Past performance is no guarantee of future results.  Securities offered through Triad Advisors, member FINRA/SIPC. Advisory Services offered through Obsidian Personal Planning Solutions, LLC. Obsidian Personal Planning Solutions, LLC, and Obsidian Personal Planning Solutions, Inc, are not affiliated with Triad Advisors.
Subscribe to our weekly newsletter